After a cosmetic aesthetics BTS obtained in 2014 at the Gontard Élégance school, Laurie Feligioni made the decision to go on an adventure for a year in Australia . With the primary objective of learning English, she quickly discovered that this trip was going to bring her much more than that. On the other side of the world, she was able to refocus on herself, her life and her future. Makeup has become a matter of course for her.
During her career, she had the chance to work for the biggest events such as the Cannes festival with Chopard, the NRJ Music Awards, Cannes Lions Festival, the international Gran Turismo, the Canneseries and many others. others. She has also worked with many prestigious brands such as Fendi for Grazia , L'oréal , By Terry and also Makeup For Ever as a trainer.
She joined the Makeup For Ever Academy first as a student. During these 10 months of learning, she acquired solid technical skills but above all developed her creativity thanks to the various projects and events in which she participated.
At the end of this training, Major de Promotion and officially Professional Makeup Artist, she started freelancing.
At the same time, she joined the teaching team of the Makeup for ever Academy. It is with honor and happiness that she accompanies students and future make-up artists in their learning through demonstrations, advice and corrections.
Elle a intégré la Makeup For Ever Academy d'abord en tant qu'élève. Pendant ces 10 mois d'apprentissage elle a acquis de solides compétences techniques mais surtout développé sa créativité grâce aux différents projets et événements auxquels elle a participé. 
À l'issue de cette formation, Major de Promotion et officiellement Maquilleuse Professionnelle, elle se lance en freelance.
En parallèle de cela, elle intègre l'équipe professorale de la Makeup for ever Academy. C'est avec honneur et bonheur qu'elle accompagne les élèves et futurs maquilleurs dans leur apprentissage grâce à des démonstrations, conseils et corrections.
FASHION CAMPAIGN IN MILANO
Zanzarissima brand with Luca di Fazio as photographer.
CAMPAIGN UNDER THE SIGN OF THE ZODIAC
For the SLEEPWALKERWORLD brand with Young Racers Agency and London-based photographer Paul Perelka.
SHOOTING HAIR COUTURE ERIC ZEMMOUR
Backstage of a Spring/Summer 2023 collection shoot with Stéphane Gagnard as photographer. Glamorous & Chic makeup.
With Marc Laurin Photographer. Create a material effect using paint on the face and in contact with water.
Fashion shoot for Luxurious Beauty Booking agency
Stéphane Gagnard as photographer and Éric Zemmour as hairdresser, in Monaco.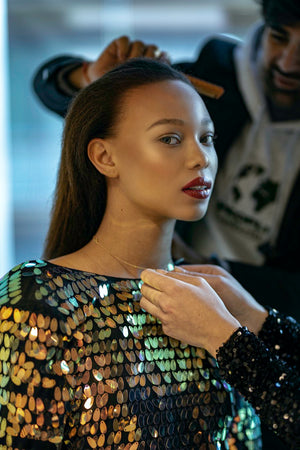 Laurie Feligioni also holds the title of World Body Painting Vice-Champion in the "Amateur Brush and Sponge Award" category of the World Body Painting Festival 2018 in Austria.
Since then, Laurie Feligioni divides her time between her freelance projects and teaching at the Academy.
Passionate about make-up, fashion and aesthetics, she has found an amazing means of artistic expression through her job.
"Makeup as a revealer of beauty, thanks to colors, textures, reflections, movements, intentions, shadows and lights, transforms and metamorphoses those who wear it in a magical and unique way every time."
Laurie Feligioni
It makes its skills available to professionals and individuals for all types of projects. She works in different worlds such as beauty, fashion, cinema, theater, events and the arts.
Do you also want to live from your passion?
Discover Laurie Feligioni's online training, to become a professional makeup artist or to improve your skills. There is bound to be one that meets your needs!